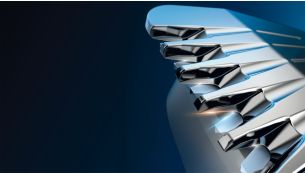 DualCut technology for maximum precision with 2x more blades
Enjoy maximum precision with DualCut technology, which includes 2x more blades. The steel blades lightly brush against one another – sharpening themselves as they work. This results in blades that are sharp as day 1 after 5 years of use.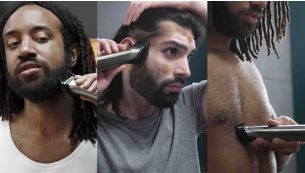 Trim and style your face, hair and body with 14 tools
This all-in-one trimmer conveniently trims and styles your facial hair, clips your hair and grooms your body.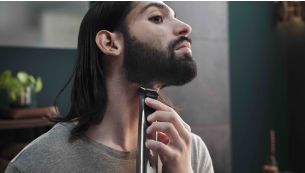 Metal trimmer precisely trims beard, hair and body
Use the metal trimmer with DualCut technology without a comb to get clean, sharp lines around your beard, neck and hairline, or to trim your body hair to a minimum length.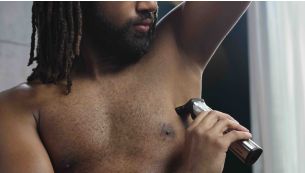 Bodyshaver comfortably shaves your body hair
Shave comfortably below the neck with our bodyshaver. Our unique skin protector system guards even your most sensitive body areas, allowing you to comfortably shave hair as close as 0.5mm.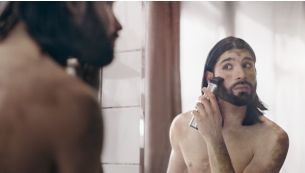 Precision shaver perfects the edges of cheeks, chin and neck
Use the precision shaver after trimming, to perfect the edges of your cheeks, chin and neck.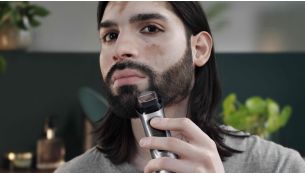 Detail metal trimmer defines edges of your beard or goatee
Create fine lines, contours and details with precision, to define or change your style.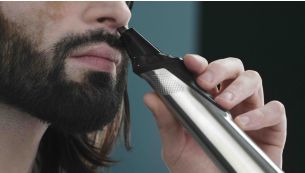 Nose trimmer gently removes unwanted nose and ear hair
Remove unwanted nose and ear hair, easily and comfortably.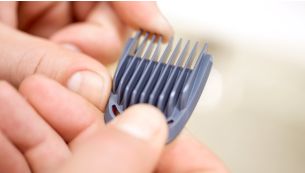 8 combs for trimming your face, hair and body
2 stubble combs (1,2 mm) , 1 adjustable beard comb (3-7 mm), 3 hair combs (9,12,16 mm) and 2 body combs (3,5 mm).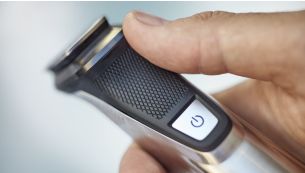 No-slip rubber grip for improved comfort and control
High-quality rubber handle for superior comfort and control while trimming.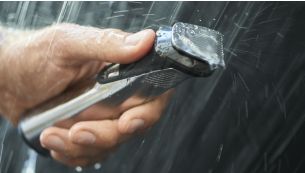 Showerproof for convenient use in the shower and cleaning
This trimmer is designed to be water-resistant, so that you can use it comfortably in the shower and easily clean it under the tap.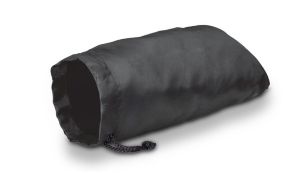 Storage pouch for easy organization and travel
Use the convenient pouch for storage or travel. It holds and protects your trimmer and all its tools when you're on the go.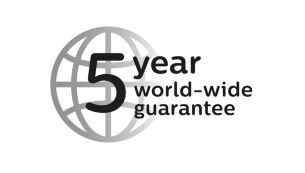 5-year guarantee and worldwide voltage
We back this Philips trimmer with a 5-year guarantee. Our grooming products are built to last and engineered to give a reliable performance, time after time. This trimmer's parts never need to be oiled, and its battery is compatible with all voltages, worldwide.
The premium hair trimmer from Philips adds a touch of perfection to your own personal style – from head to foot. The all-in-one trimmer features innovative DualCut blades and 14 high-quality attachments for accurately trimmed facial, head and body hair. Whether shaving, trimming or removing body hair: the Philips Multigroom delivers accurate results with ease and convenience. Its non-slip grip sits reliably in the hand, even in the shower.
Details
Size (W x H x D): 3.5 x 15 x 2.5cm
Weight: 340g
Material: metal, rubber
Colour: silver/black
Features
Hair trimmer for head and body
14 attachments
DualCut technology for maximum precision
Metal trimmer cuts beard, head and body hair with extreme precision
Body shaver for convenient body hair removal
Precision shaver for perfectly shaped edges on cheeks, neck and chin
Precision metal trimmer for perfectly shaped beard and goatee edges
Nose hair trimmer for gently removing undesirable nose and ear hair
Eight combs for face, head and body
Non-slip rubber grip for more comfort and control
Battery charge indicator
Mains voltage: 100 to 240V
Lithium-ion battery (runtime up to 180 mins., charging time up to 60 mins.)
Quick-Charge function (5 mins. charging time for one shave)
Incl. case for easy storage, also on journeys
Included in delivery
Philips Multigroom Series 7000 MG7745/15 14in1 premium trimmer
Metal trimmer
Precision metal trimmer
Precision shaver
Nose and ear trimmer
Body shaver
Adjustable beard comb (3mm to 7mm)
Two trimmer attachments (1mm and 2mm)
Three comb attachments (9mm, 12mm and 16mm)
Two comb attachments for body hair (3mm and 5mm)
Cleaning brush
Storage case
Charger.